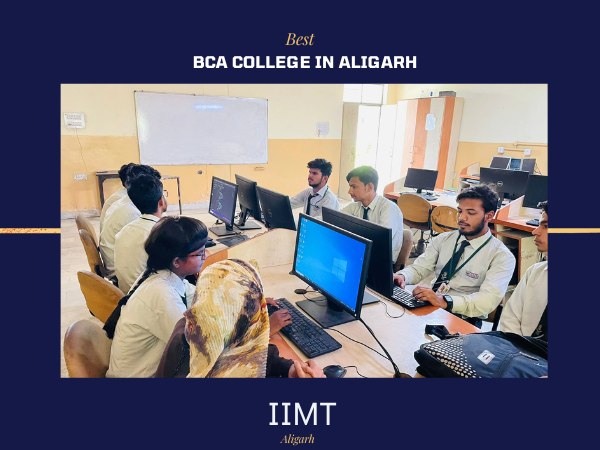 Best BCA College in Aligarh
In the ever-evolving landscape of technology, the need for competent professionals in the field of Computer Applications is skyrocketing. If you are passionate about technology and want to make a mark in the IT sector, then choosing the right institution for your Bachelor in Computer Applications (BCA) is the first critical step. IIMT Aligarh, a prestigious institution, offers one of the best BCA programs in the region. In this blog, we will dive into the features that make the BCA program at IIMT Aligarh stand out.
Holistic Curriculum
IIMT Aligarh's BCA program focuses on a comprehensive and industry-relevant curriculum. The course lays a strong foundation in core subjects such as programming languages, database management, computer networks, and software engineering. Alongside, it also integrates the latest technological trends, ensuring that students stay updated and ready for the industry.
Experienced Faculty
One of the pivotal aspects of IIMT Aligarh is its team of highly experienced and knowledgeable faculty members. Their wealth of experience combined with a dedication to imparting quality education ensures that students receive mentorship that can help shape their careers. The faculty at IIMT Aligarh not only focuses on academic knowledge but also emphasizes practical applications and critical thinking.
State-of-the-art Infrastructure
The infrastructure at IIMT Aligarh is designed to cater to the educational needs of modern-day students. The BCA department boasts state-of-the-art computer labs with the latest software and hardware, libraries enriched with a vast collection of books and journals, and comfortable classrooms that create an optimal learning environment.
Exposure and Opportunities
IIMT Aligarh believes in providing its students with ample exposure to the real-world industry. Regular industry visits, internships, workshops, guest lectures by industry experts, and participation in tech-fests help in bridging the gap between academic learning and practical experience. These exposures help students to develop essential soft skills and professional attributes.
Placement Support
A significant measure of an institution's quality is the success of its graduates. IIMT Aligarh takes pride in its robust placement cell, which helps students in finding their dream jobs. The placement cell conducts various training programs for skill enhancement and offers comprehensive support during the placement process.
Nurturing Innovation
In the world of technology, innovation is key. IIMT Aligarh encourages its students to think creatively and work on innovative projects. Whether it's an innovative app, a game, or any tech solution, the institution provides the support and resources needed for students to bring their ideas to life.
In conclusion, the BCA program at IIMT Aligarh is not just about acquiring a degree; it's about embarking on a journey of learning, growth, and excellence. With its holistic curriculum, experienced faculty, modern infrastructure, and plethora of opportunities, IIMT Aligarh indeed offers one of the best BCA programs.
If you dream of a successful career in the exciting world of Computer Applications, then IIMT Aligarh is the place to be!
Bachelor in Computer Application (BCA)
Bachelor in Computer Application (BCA) is an undergraduate degree course in computer applications. With the rapid growth of IT industry in India, the demand of computer professional is increasing day by day. This increasing growth of IT industry has created a lot of opportunities for the computer graduates.
Bachelor in Computer Application (BCA) is one of the popular courses among the students who want to make their career in the IT (Information Technology) field. The duration of the course is 3 years and divided into 6 semesters. It comprises of the subjects like database, networking, data structure, core programming languages like 'C' and 'java'. This course provides a lot of opportunities to the students who are interested in computer field and wants to work in the IT sector as programmer or software developer. 
Eligibility
Before planning for any examination it is very important to check out some basic but important points. One of the most important point before applying any course is the eligibility. It needs to be checked whether the candidate is eligible for appearing for desired course or not. The students who are interested in BCA as their higher studies must fulfill the following eligibility criteria:
Candidate Should be a citizen of India.
Candidate must have passed class 12th

 

or senior secondary examination with at least 50% marks including English.
The 12th examination must be passed/Appearing with mathematics as a compulsory subject.
Courses & Duration
The BCA is an undergraduate degree course in computer applications for a duration of 3 years. After completing BCA, a student can go for MCA which is a master's course in computer application and is considered equivalent to an engineering course (B.Tech).
The study period of BCA includes various subjects such as Programming in C Language (Basic and Advanced), Networking, World-Wide-Web, Data Structure, Advanced C Language Programming, Database Management, Mathematics, Software Engineering, Object Oriented Programming using C++, Visual Basic, Programming using PHP, JAVA, Oracle, Operating Systems, Web Scripting and Development, etc.